Gamification is an approach of using popular game mechanics for product developement.
Here is a list of 7 Common Game Mechanics you can adapt for your business or service:
Tournament and challenges
Quests and some virtual reward for them (gold, experience points)
Achievements
Levels and constant tracking of your progress
Public ranking and leaderboard
Interactive training of how to use your product
Constraints! Limiting access to certain content until your reach a specific level or complete enough quests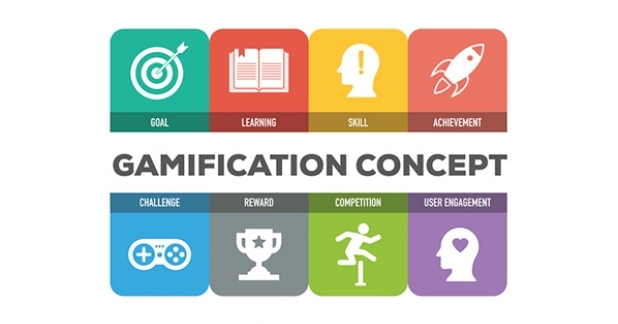 Now think for a minute how you can integrate any of mechanics above into your business. That's how you engage and entertain users, make them loayl and regular visotors of your web-site or application, while enhancing that very "user experience" and retention rate of your product.
How to create a unique game atmosphere?
Most of the games are based on the mechanics mentionted in the list above. But still they are completely different. What makes games so different from each other? A unique atmosphere of that game. In you want to make your product completely different from all competitions and orginally position it in the market you can use create a vivid atmoshepre.
List of elements that make a game atmoshpere:
Artwork (fantasy, space and sci-fi, anime, realistic, Middle Ages, ancients civilizations, doodle world)
Text style ("Yes, your majesty", "Roger that, Commander!")
Sounds
Game panel, toolbar (RPG-style health and mana bar, weapon arsenal, crops on your virtual farm)